Oil is The Lifeblood of Any Engine
Engine Oil reduces friction, lessens wear, provides lubrication, forms a seal between the pistons, rings and cylinder walls while helping to cool engine parts. Without the cleaning action of new oil, carbon and varnish buildup would be toxic to the engine. And engine oil even dampens the shock and noise of moving parts. With a Car Repair Service oil change, or any other service at our NAPA Auto Care Centers of Kendall, you'll receive a courtesy car check.
Generally, we recommend most cars have their oil changed every 3,000 miles or three months, whichever comes first. If you just bought a car, then you should schedule an oil change every 6,000 miles or six months. While you're there, let us perform a courtesy car check, which includes a visual check of the following items: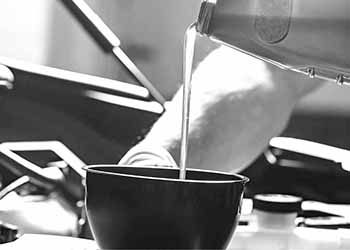 5 Signs Your Oil Needs Changing
1. Dark and Dirty Oil
Clean oil is an amber color. After a while, the fluid darkens and gets dirty from all of the particles it collects from the engine. You won't know exactly when its color starts to turn, so we recommend checking the condition of your oil every month. To do this, remove the dipstick from your engine, wipe it off, and put it back in. When you remove it again, if you can see the stick through the oil, the fluid is fine. However, if it's thick and dark, schedule an oil change at our NAPA Auto Care Centers of Kendall.
2. Louder Engine Noise and Knocking
Clean oil provides a thin barrier between engine parts that protects against metal-on-metal contact and keeps your engine quiet on your travels. However, when the fluid starts to break down, it doesn't lubricate the parts as well so you'll hear louder engine noise. If you ignore the increased engine sounds, you'll start to hear knocking, rumbling, and even roaring to let you know that your vehicle is in dire need of an oil change.
3. Oil Change or Check Engine Light
An illuminated oil change light on your vehicle's dashboard indicates that there's too little oil in the system. So once you see this light, check your oil level with the dipstick and if it's insufficient, change your oil as soon as possible. In more serious instances, your check engine light will turn on to let you know your vehicle is at high risk of engine damage due to the lack of fluid or damaged parts.
4. Exhaust Smoke
It's common to see a translucent vapor coming out your tailpipe when the weather gets colder. But if you notice smoke being emitted, check your oil because there could be an oil leak in your engine. Smoke can also indicate faulty parts in your engine. So if you see there's enough oil in your vehicle, have a professional perform diagnostics to pinpoint the problem and repair it immediately.
5. Oil Smell Inside the Cabin
Getting a whiff of oil inside the cabin is a huge warning sign. Generally, the odor is strong and means there's a leak. However, this scent can also be mixed with the smell of gas or exhaust fumes. This indicates that your vehicle is overheating and oil is burning into the exhaust area. An overheating engine can cause serious damage to your car and even ignite a fire. So once you smell oil inside your car, get an oil change right away.